Article by Urve Patel. 3 Aug 2022.
"Cuti-Cuti Malaysia" was a phrase I often heard during the brief periods of relief we received from the nationwide lockdowns throughout 2020 and 2021. I admit I initially did not know what it meant and just went with the tag line when Flow Dive Center started using it to promote local dive trips to Tioman, Perhentian, Tenggol, and later the islands off the coast of Semporna. After a while, I asked my fellow dive pros what it meant and was slightly disappointed to learn it meant 'Holiday' Malaysia. Regardless of my disappointment in knowing what the phrase meant, I was certainly excited by the prospect of traveling to some of the astonishingly beautiful Islands in Peninsular and West Malaysia for scuba diving!
So what makes 'Cuti-Cuti' Malaysia and diving locally such an enjoyable and rewarding experience? Well, to put it simply, Malaysia has some of the most diverse and spectacular dive sites in the world! The Islands in Malaysia sit within what is known as the 'Coral Triangle,' a region covering ~2% of the total oceanic area but containing 76% of all known coral species in the world and 32% of the world's reef fishes. It is one of the most ecologically diverse regions anywhere on the planet, with blessed crystal blue waters. While many scuba divers would consider this a good enough reason to go diving in Malaysia, that is not all Malaysia has to offer in the way of diving! Besides the vibrant and colourful coral reefs, you can dive in various environments in Malaysia, from muck and macro dives, artificial reefs, wall and pinnacle dives, drift diving, swim-throughs, and wrecks dives, to name a few. Here are some of the best dive sites to experience these different environments.
Muck and Macro diving – Mabul, Kapalai, Lankayan, and Tioman Islands.
Photo by Sport Diver
Muck diving means diving in sites with sandy, silty or muddy bottoms, often strewn with detritus, in search of small creatures like shrimps, nudibranch, frogfish, seahorses, and flamboyant cuttlefish, to name a few. The truest muck sites tend to feature a lot of rotting vegetation and artificial rubbish, much of which has been adapted by marine life into shelters. In truth, if you didn't know better, you would think you are diving in the wrong spot since there is little to see in the way of colourful coral reefs and large pelagic fish. These dive sites are particularly popular with underwater macro photography divers, and some of the best sites are located in Mabul and Lankayan islands. Here, you will often find divers with their expensive Olympus cameras in their underwater housing getting down and dirty in search of tiny critters in the loose sediment. And it's the search for these tiny, elusive creatures which make muck dives so enjoyable (and frustrating!). But let's make no mistake, muck diving is not the same as macro diving. Macro diving means diving with small 'stuff' in mind regardless of the environment. When you're peering through Sea-Fans for Candy Crabs, searching the length of whip corals for shrimps, or looking for green algae on white sandy bottoms for Shaun the sheep, you my friend, are macro diving. And the best dive sites for macro diving in Malaysia are Kapalai Island and Juara Bay on Tioman Island. These sites offer a rich abundance of macro life. However, it is the rare critters like the Blue Ring Octopus, Leopard Shrimp, Pikachu Nudi, and the Harlequin Shrimp that avid macro divers search for.
Coral reef diving – Redang, Tioman and Tenggol Islands
Photo by The Star
Coral reefs are the foundation of the underwater ecosystem, providing food and protection for marine life. Coral reefs also offer some of the best dive experiences thanks to their abundant marine life, diverse corals, and warm water. You will see various types of colourful, tropical fish, including butterfly fish, wrasses, parrotfish, clownfish, angelfish, and damselfish, and mammals like dolphins and turtles. You can also see larger creatures like white- and black-tip reef sharks, dolphins, barracudas, and jackfish. The best dive sites for coral reef diving can be found in Redang, Tioman, and Tenggol islands which not only offer an abundance of marine life but a variety of beautiful and colourful corals, including staghorn, lettuce leaf, sea whips, sea fans, table, lobe, and carnation coral build-ups.
Wall and Pinnacle Diving – Sipadan and Layang Layang
Photo by Scuba
Wall diving involves diving alongside the edges of coral reefs, reef walls, and other vertical underwater terrains. The walls can vary in size from just a few meters dropping dramatically down hundreds of meters and more. Wall diving is an exhilarating experience, and there is nothing quite like hovering at the edge of a wall with nothing but the deep blue sea all around. One of the thrills of diving a wall is the marine life. Large pelagic often emerge from the depths to feed on the smaller fishes that inhabit the tiny cracks and crevices that dot the wall. Many of the walls are also heavily blanketed with marine life, and you can spend the entire dive observing these tiny critters. But don't be so engrossed in the macro life that you forget to look over your shoulder to see what might be passing by. Sipadan and Layang-Layang offer some of the best wall dives in Malaysia. Due to the occasional strong currents, these islands provide a high chance to see large pelagic species such as manta rays, hammerheads, reef leopards, black tips, and barracudas, as well as innumerable smaller creatures.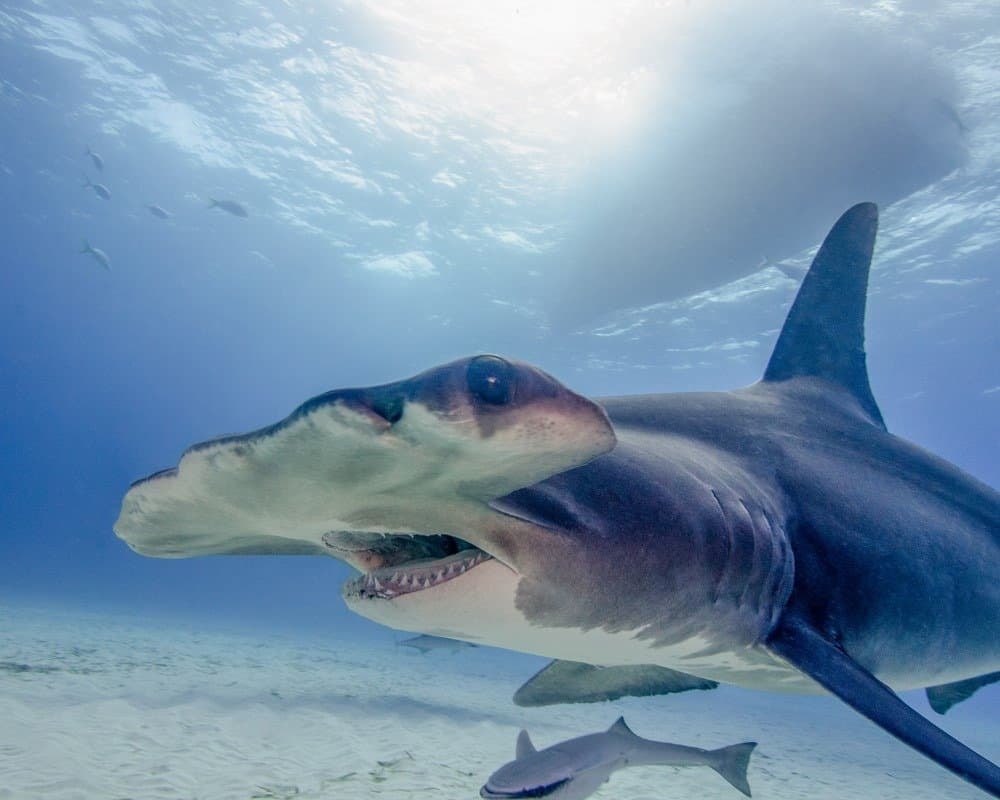 Swim-throughs – Perhentian and Tioman islands.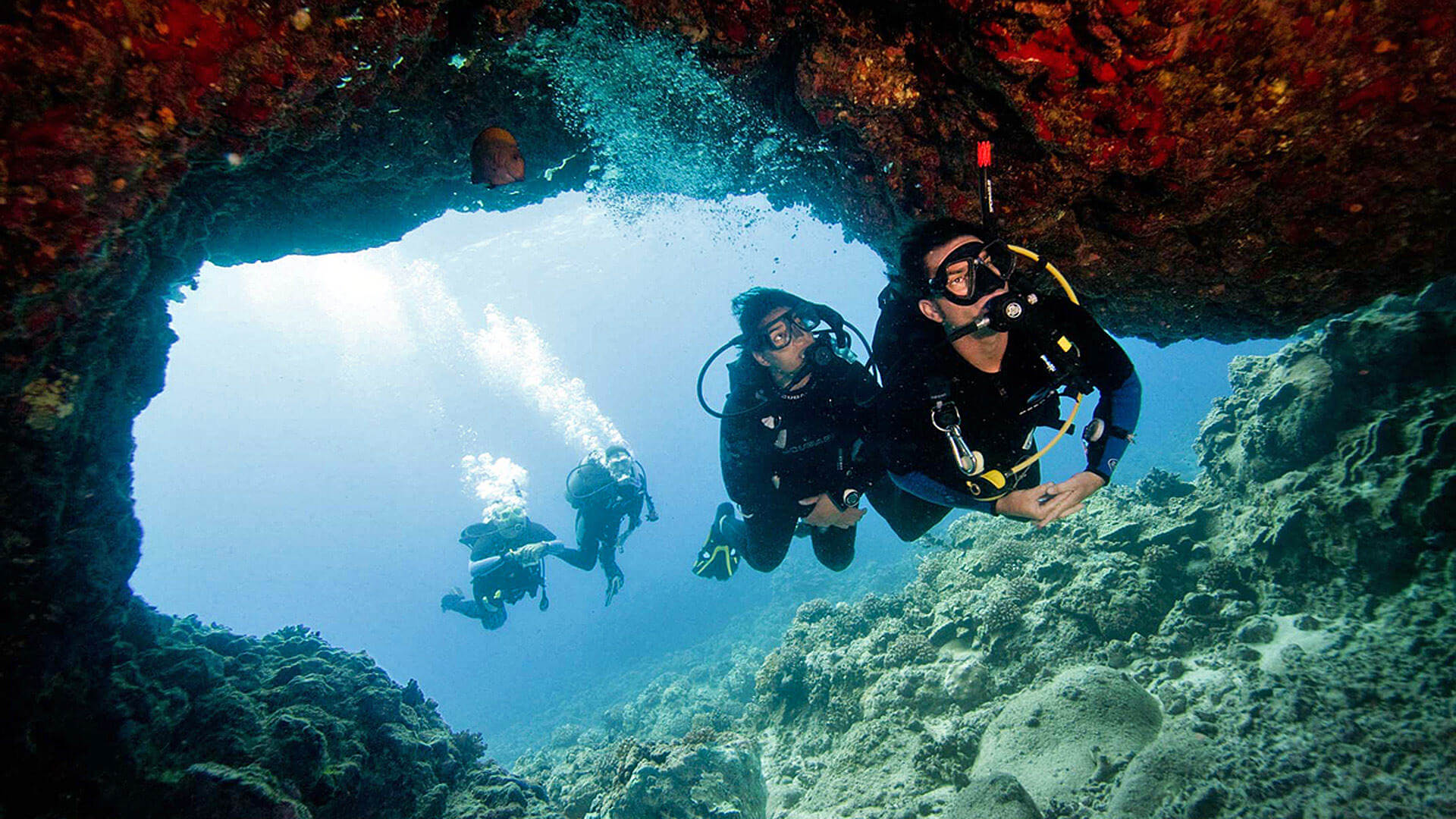 Photo by Sunrise Divers
Swim-throughs are just as the name suggests – 'swimming' through tunnels that exist between boulders, reef debris, and other topographic features. A typical swim-through is anywhere between 25ft in length, relatively open and quite easy to navigate, and where light can be seen at the far end. Buoyancy is key to successful swim-throughs, so if you are a new diver, it's generally advisable to improve your buoyancy before making an attempt. Swim-through tunnels also provide space for reef fish to shelter from larger predators – and while they can be challenging and test your buoyancy – swimming through one and encountering a school of butterflyfish, angelfish, or Moorish Idols all around you can be a fantastic site to behold! Tioman Island has one of the best swim-through dive sites in Malaysia. Often described as the Swiss Cheese of Tioman due to its interlaced maze of swim-throughs, the dive sites around Labas are good for finding clownfish, groupers, coral cod, and other reef fish. Terumbu Tiga (T3) is also another tremendous swim-through dive site on Perhentian Islands. This site comprises massive building-sized boulders that you can swim through and see schools of barracudas, pipefish, and coral cod.
Wreck diving – Perhentian and Tioman islands.
Photo by PADI
Wrecking diving is where the wreckage of ships, aircrafts, and other artificial structures are explored from the outside or with limited penetration within the 'light zone'. Unfortunately, Malaysia is often overlooked as a wreck diving destination in favour of Brunei (it does have over 20 shipwrecks, after all!). However, this doesn't mean Malaysia doesn't have its share of good wrecks! The best and most abundant location for wreck diving is Perhentian islands. Here you will find the Sugar Wreck, Vietnamese Wreck, and the Police Wreck. The most popular of these is the Sugar Wreck (sunk in 2000), a 90 m cargo ship on its side in 18 m of water. Cobias, Coral cat sharks, bamboo sharks, scorpionfish, barracuda, lionfish, giant puffers, and boxfish all make their home here. Another favourite on the Perhentian islands is the Vietnamese Wreck, a small site that makes an exciting dive due to the drift off the wreck and the chance to spot seahorses and the blue-ring octopus. Equally good is the Sawadee Wreck on Tioman Island – a group of three ships (a metal hulled ex-marine police patrol vessel and two older wooden fishing boats) between 26 and 32 m depth. Juvenile barracuda, fusiliers, batfish, and snapper school are huge numbers around these wrecks, and looking closer, you can find scorpion, stonefish, lionfish, nudibranchs, and much more covering these wrecks. However, be warned that visibility is often poor.
Top Sites – Best of the rest!
Whether you are a beginner or a professional, a pelagic or a macro diver, Malaysia's unique and truly remarkable dive sites can appeal to everyone! Here are some sites that should be on the top of your list to dive:
Pinnacles – 'Tiger Reef' and 'Temple of the Sea' on Tioman and Perhentian Islands, respectively, provide some of the most amazing pinnacle dive sites in Malaysia. Both sites can experience strong currents, but with this comes many different types of pelagic fish, including if you are lucky, a whale shark! Both sites are a must-dive if you're diving locally.
Artificial Reefs – Built to promote marine life, artificial reefs attract an incredible diversity of sea creatures, from massive giant groupers and great barracudas to frogfish, flamboyant, cuttlefish, blue-ringed octopus, ghost pipefish, and the coolest nudibranchs. The best artificial reefs to find some of these critters are the 'Kapalai House Reef' (consisting of several wrecks, houses, towers, and bridges), and the 'Bus Stop' (consisting of truck tyres, school buses, lorries) on Tioman Island.
Drift Diving – tired of fining! Well, why not try drift diving? Drift diving involves going with the flow. Some top choices would be Renggis Island, where you have a high chance of seeing black-tip reef shark, hawksbill turtle, and barracudas, to Tokong Timur, an island off Tenggol, where you can hunt for Great Barracudas, giant schools of Batfish, and if you are lucky, Whale Sharks.
Come check out our next dive trips and join us for some bubble adventures!